Main content starts here, tab to start navigating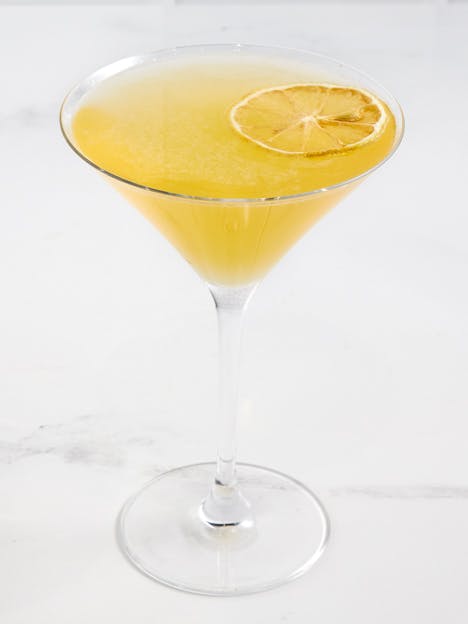 Asian Pear Martini
Pear vodka, St. Germain, passion fruit
juice and fresh squeezed lemon.
12.95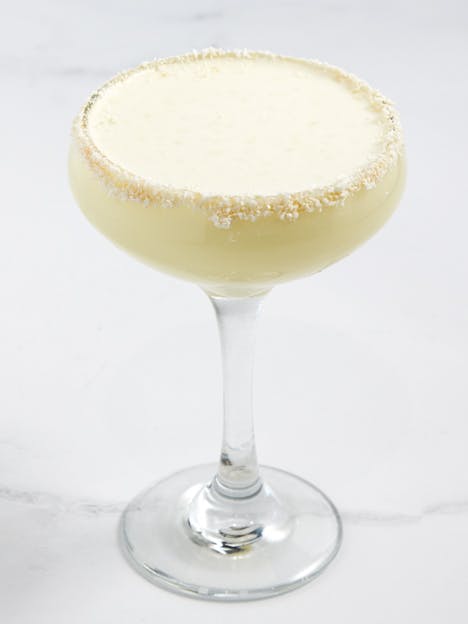 Coconut Cake Martini
Cake vodka, Frangelico, Pina colada mix,
rimmed with caramel and shaved coconut.
12.95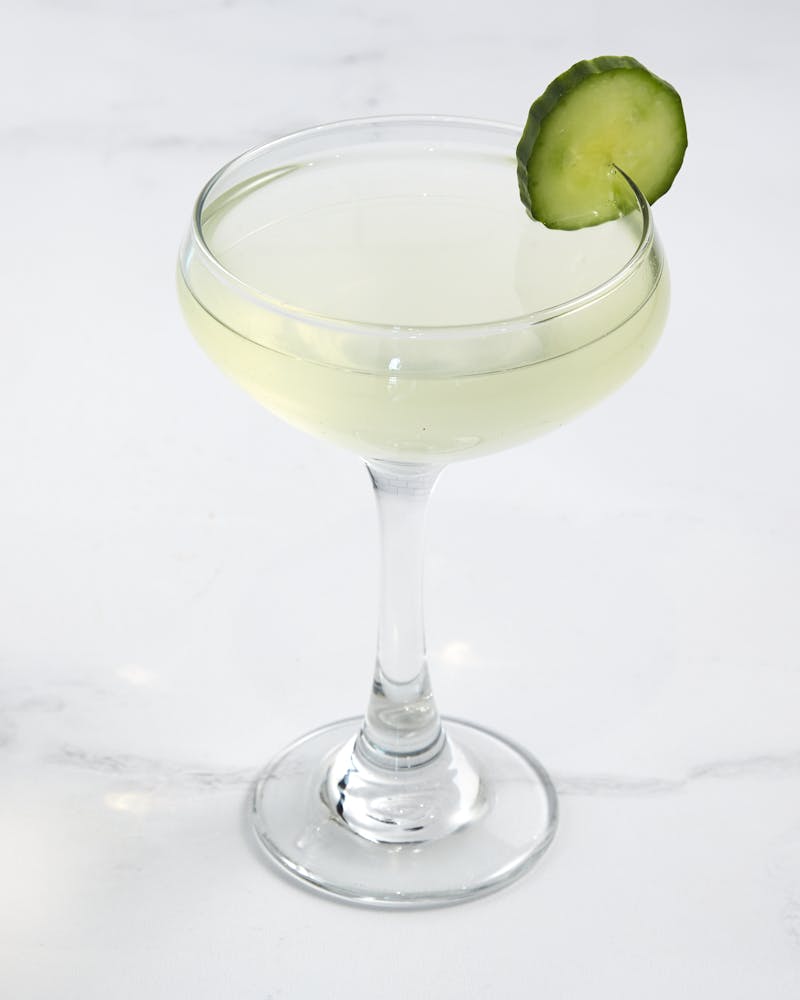 Cucumber Martini
Organic cucumber vodka, cucumber sake, muddled
with fresh cucumber and basil.
12.50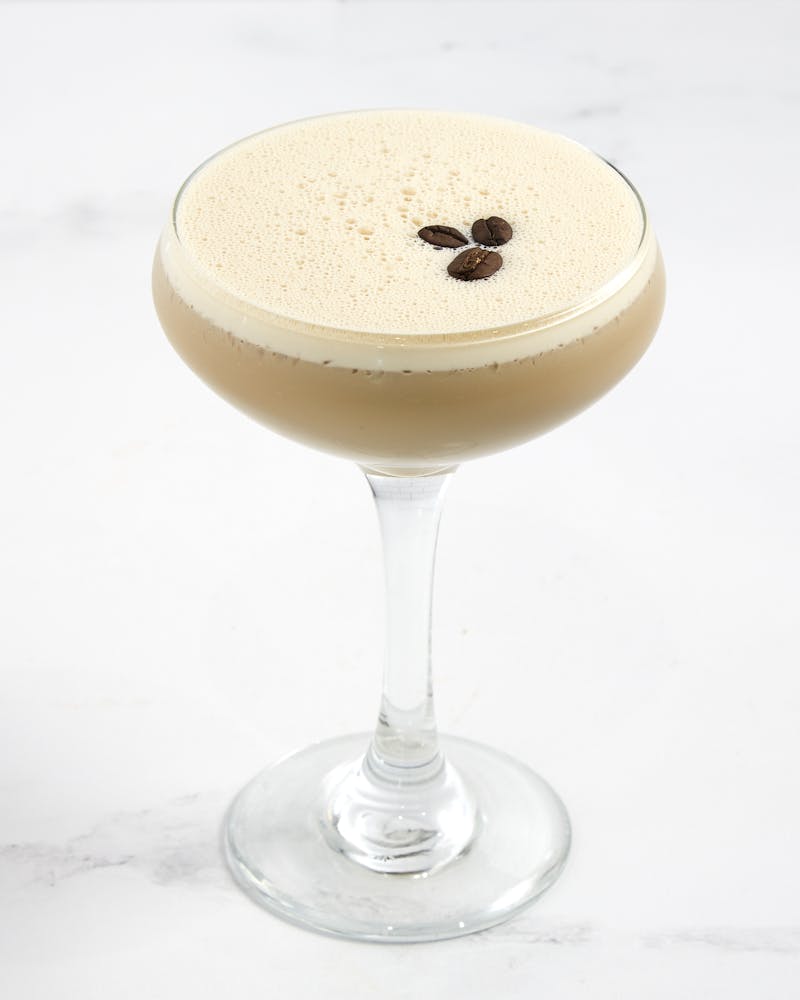 Espresso Martini
Absolut vanilla vodka, coffee, Baileys and Kahlua
12.95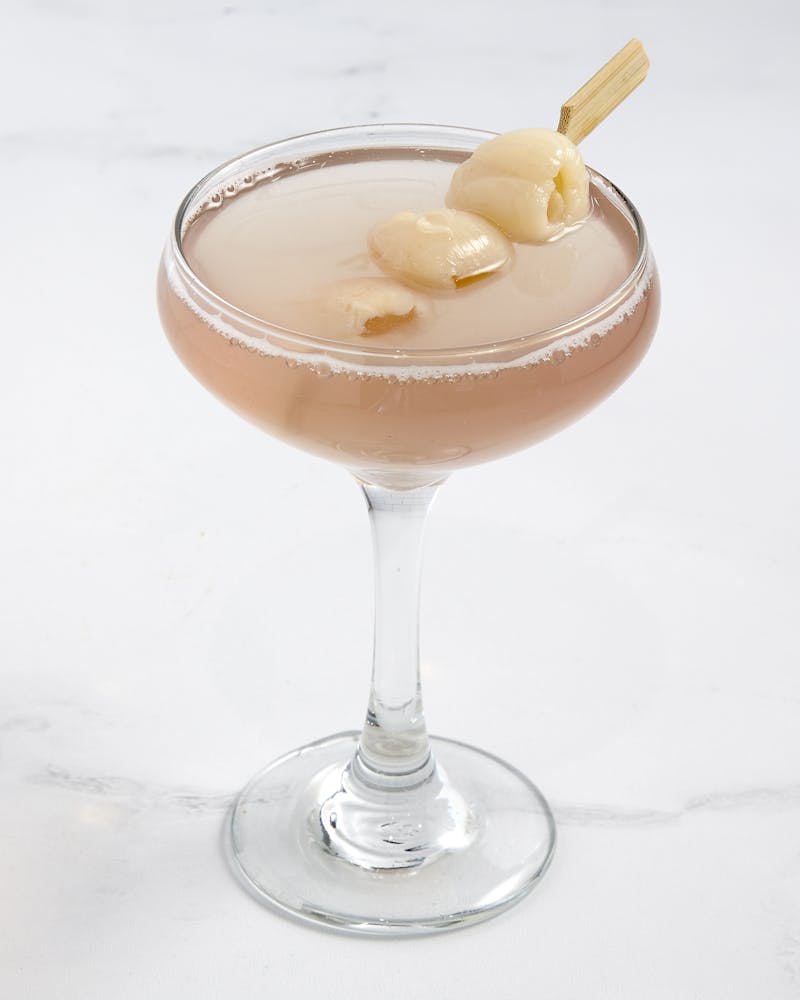 Lychee Martini
Ketel One vodka and lychee mix with a
splash of black raspberry liqueur.
Garnished with Lychee fruit.
12.95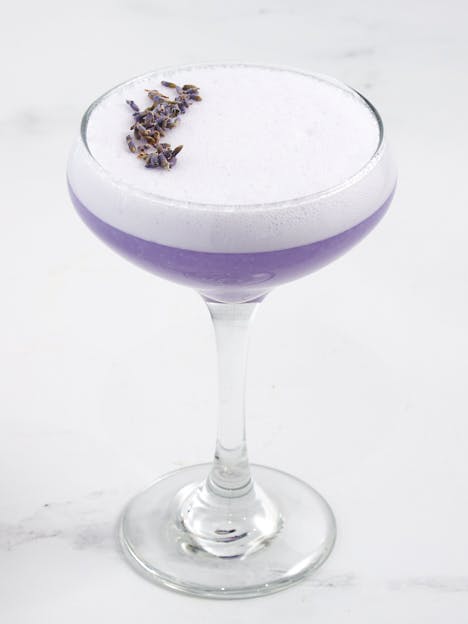 Lavender Lady
Empress gin with Fresh Lemon Juice, Pasteurized Egg Whites and Lavender Syrup.
13.95
Momo Mango Martini
Vodka with mango juice and cranberry juice.
12.50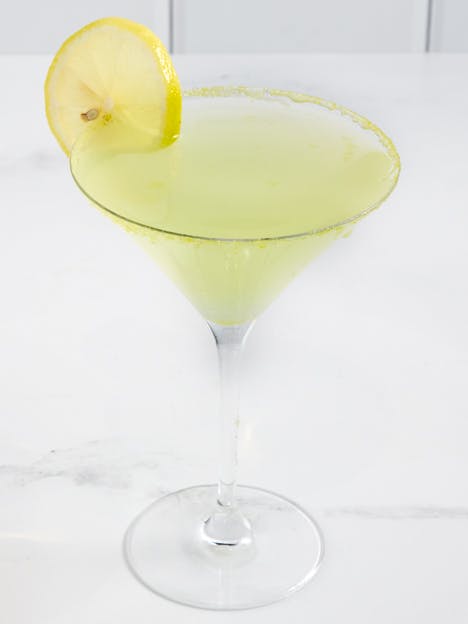 Lemon Drop Martini
Absolut Citron, Limoncello, Fresh Citrus flavors.
12.50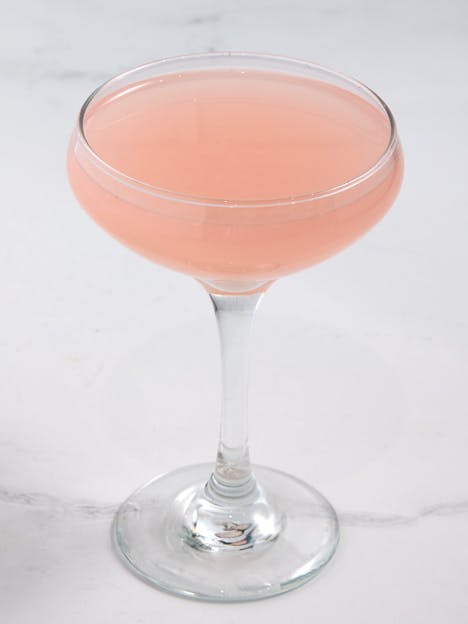 Saketini
Grey Goose, Momokawa Pearl Nigori, Watermelon Pucker.
12.95
14 Hands Pino Grigio
Bottle 37 Glass 8.25
Edna Valley Chardonnay
Bottle 39 Glass 9.00
William Hill Chardonnay
Bottle 38 Glass 8.50
Kim Crawford Sauvignon Blanc
Bottle 42 Glass 9.00
Kono Sauvignon Blanc
Bottle 38 Glass 8.50
La Marca Prosecco
Bottle 11.50
Noble Vines Pino Grigio
Bottle 35 Glass 8.00
Mirassou Moscato
Bottle 33 Glass 7.25
Dr. Loosen Riesling
Bottle 39 Glass 8.95
Kendall-Jackson Rosé
Bottle 39 Glass 10.00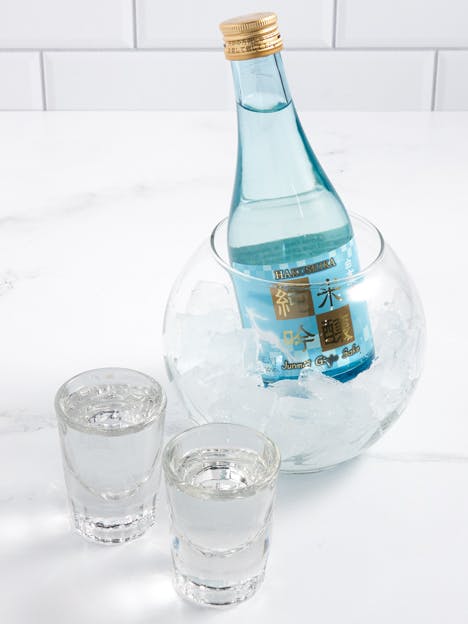 Hakushika Junmai Ginjo Sake
Full bodied, mild and dry in taste
with a fresh, fruity ginjo flavor.
18.50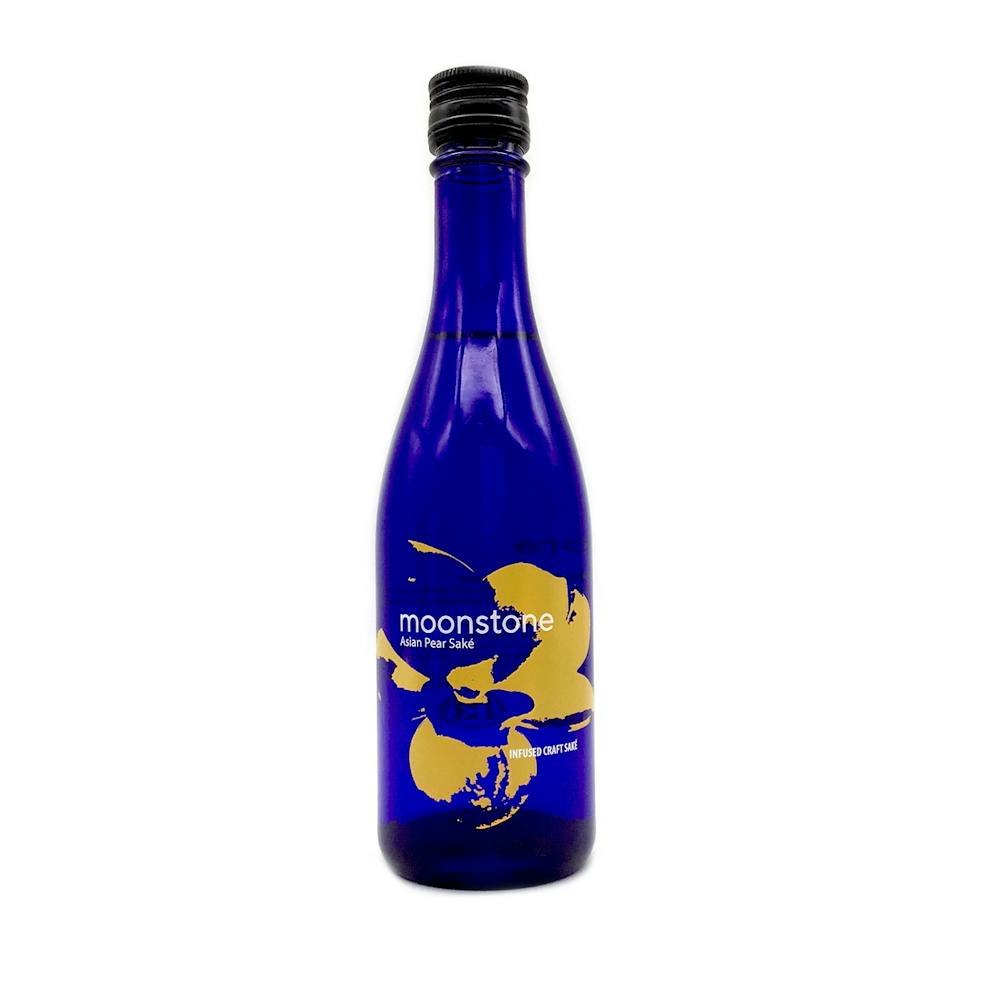 Moonstone Asian Pear Sake
A pleasant balance of crisp Ginjo sake
with a hint of dryness and fresh, lightly sweet pear.
18.95-34.00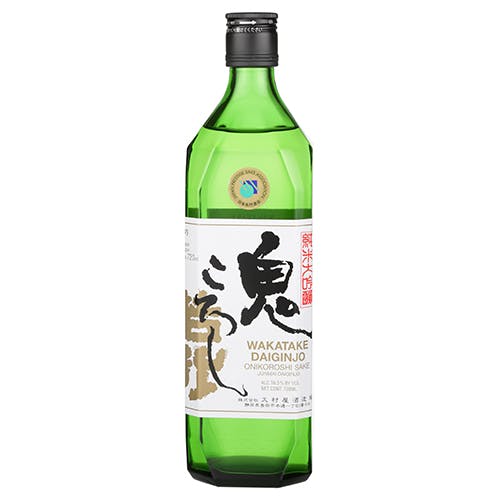 Wakatake Onikoroshi Daiginjo Sake
Good acidity with hints of peach and tangerine. As it warms look for rich semi-sweets licks of honey and citrus.
80.00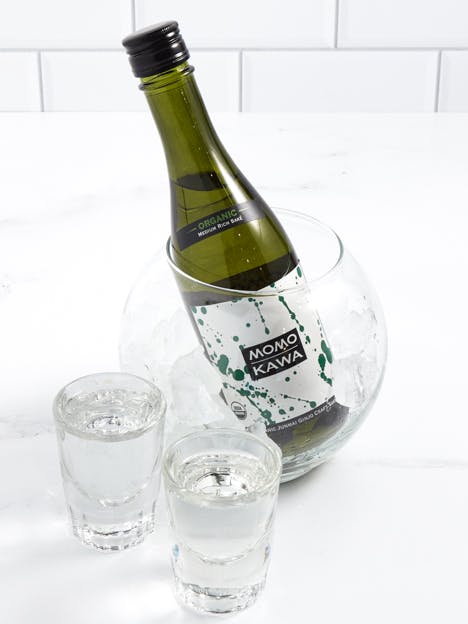 Momokawa Organic Junmai Ginjo
Medium rich with aromas of tropical flowers
and lush flavor of exotic fruits and hint of honey.
18.50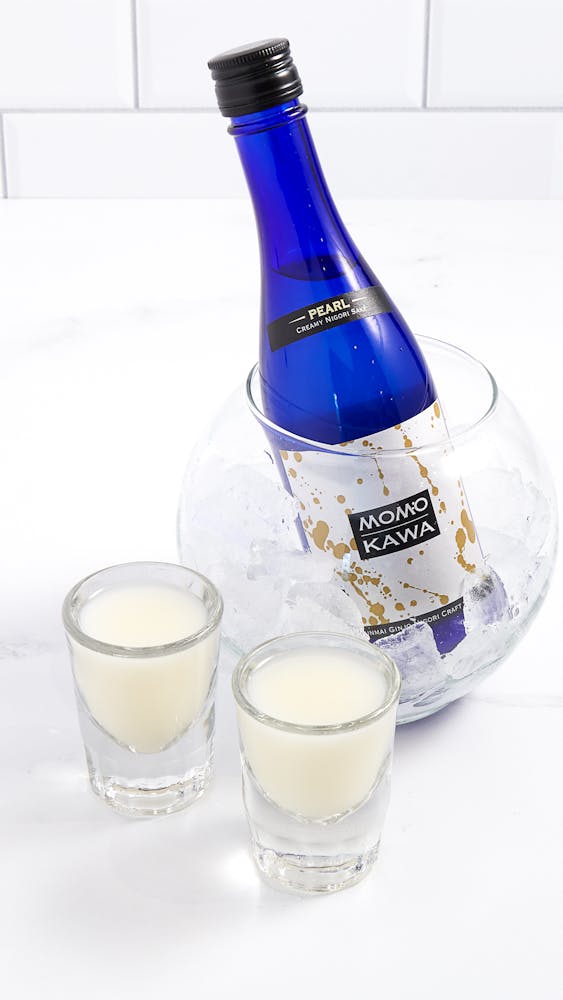 Momokawa Pearl Nigori Sake
Rich and creamy with bright
and bold tropical notes.
17.95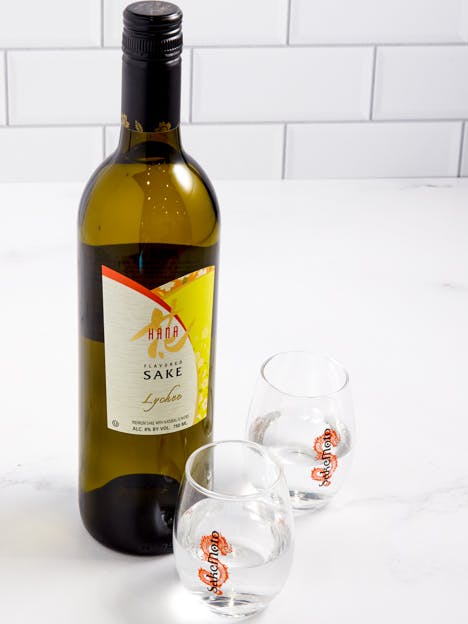 Hana Lychee Sake
Premium, full bodied sake with captivating Lychee,
crisp yellow peach and lemon aromatics.
Glass 8.25 Bottle 33.00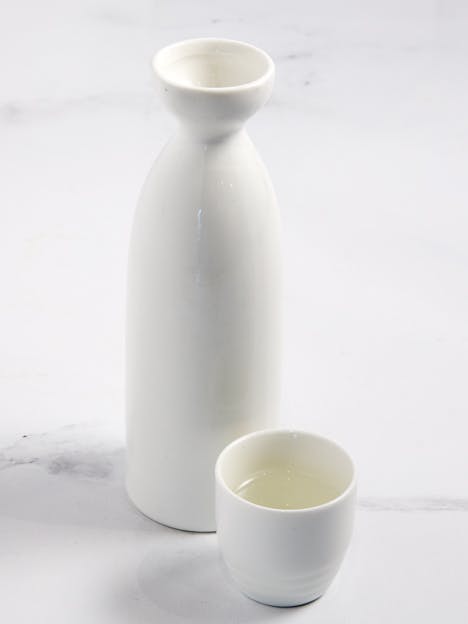 Ozeki Warm Sake
Premium warm Junmai Sake
Small 6.50 Large 10.50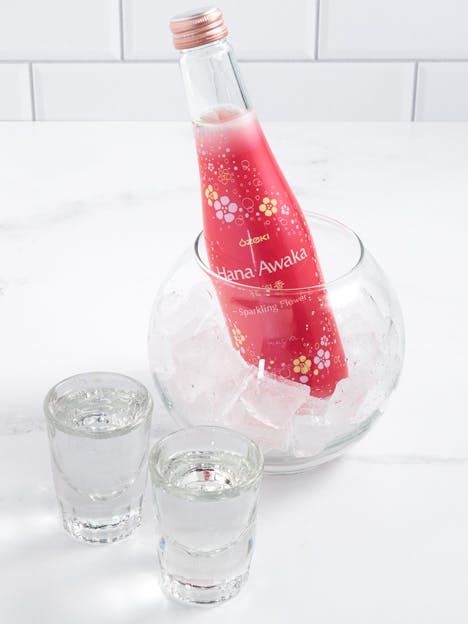 Ozeki Hana Sparkling Sake
Refreshing and sparkling Junmai Sake.
Gently sweet and balance tartness.
17.00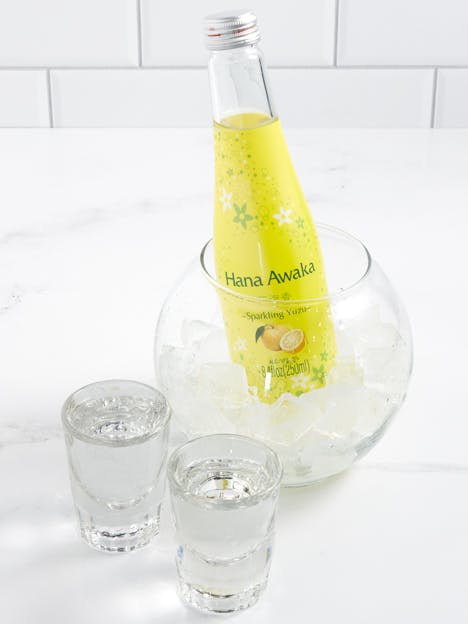 Ozeki Yuzu Sparkling Sake
Premium Sparkling Junmai infused with refreshing
and fragrant citrus flavors of Yuzu.
17.00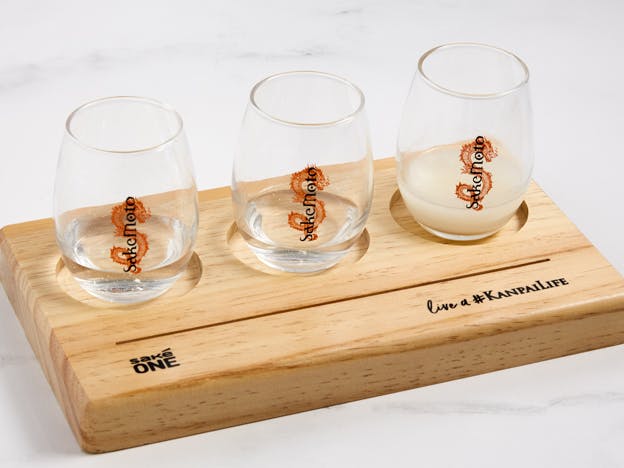 Sake Flight
11.50
Soon Hari Soju
Original, Peach, Green Grape, Green Apple, Strawberry, Yogurt
16.50
Blue Hawaii
Light rum, coconut rum, blue curacao
and pineapple juice
9.95
Maitai
Dark rum, light rum, orange curacao,
orgeat syrup, and yoki maitai mix
9.95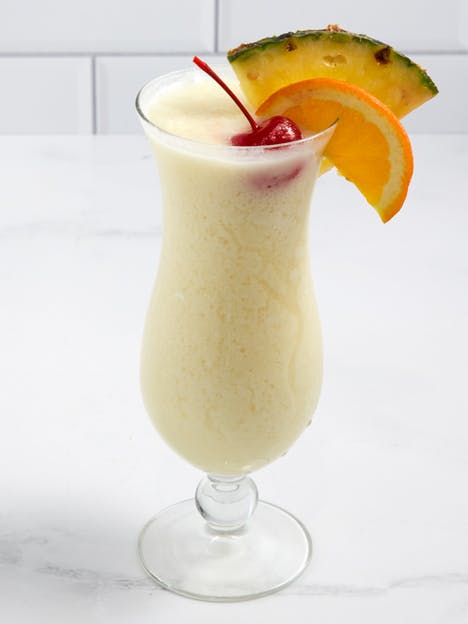 Piña Colada
Light rum, coconut rum
and yoki piña colada mix
12.95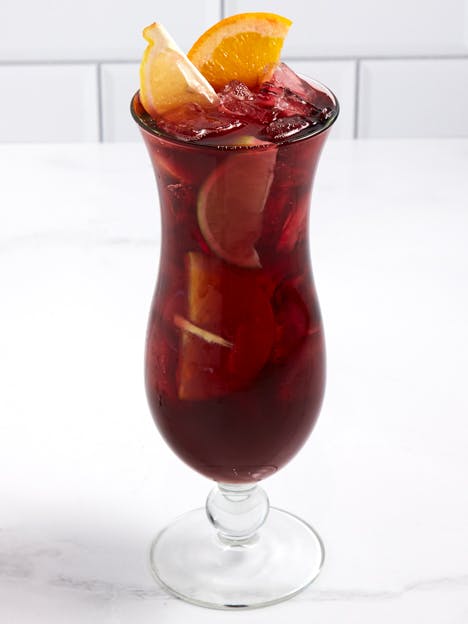 Red Sangria
Merlot, raspberry rum, brandy, muddled orange,
lemon & lime, and a splash of lemonade
13.50
White Sangria
Pinot Grigio, St. Germain, peach schnapps, muddled
strawberry, peach & orange, topped with Sierra Mist
13.50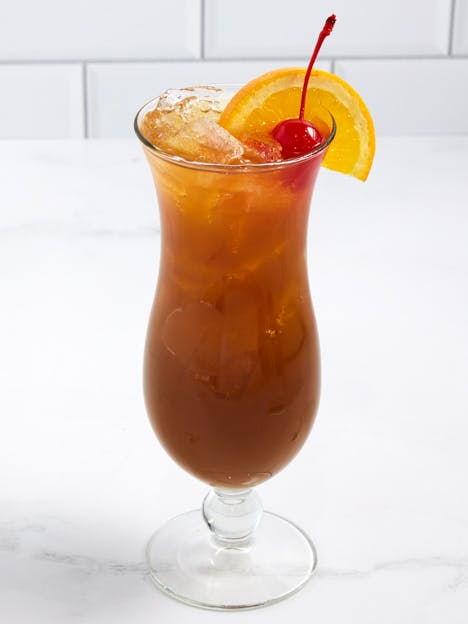 Zombie
Light rum, dark rum, apricot brandy, orange juice
& pineapple juice topped with Don Q 151
11.50
Margarita
Conquistador Tequila, Triple Sec, Lime Juice,
and with Sour Mix
12.95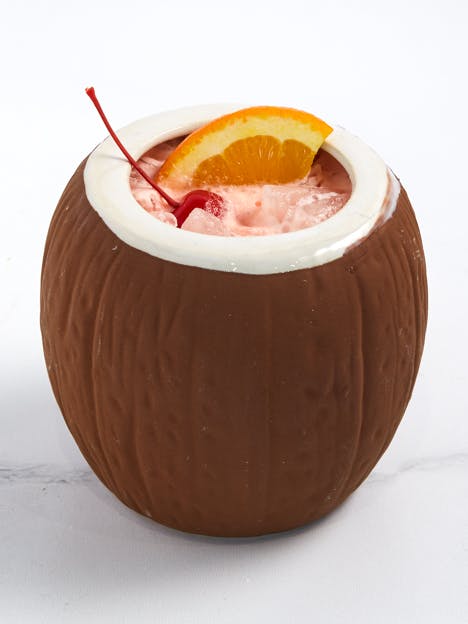 Coco Chichi
Vodka, Grenadine,
Mix with Maitai mix and Pina colada Mix
10.50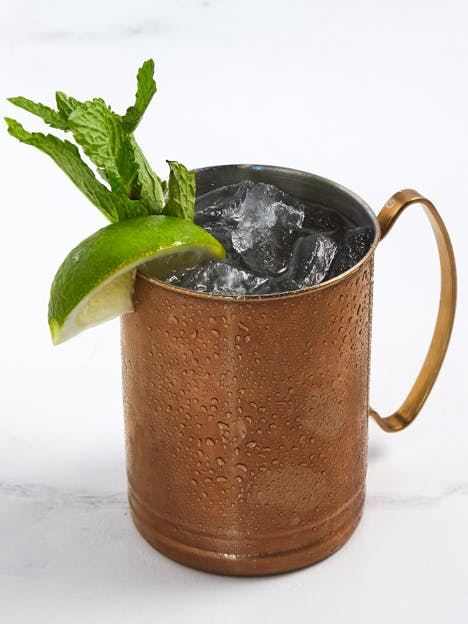 Moscow Mule
Vodka, Ginger Beer, Lime Juice
9.50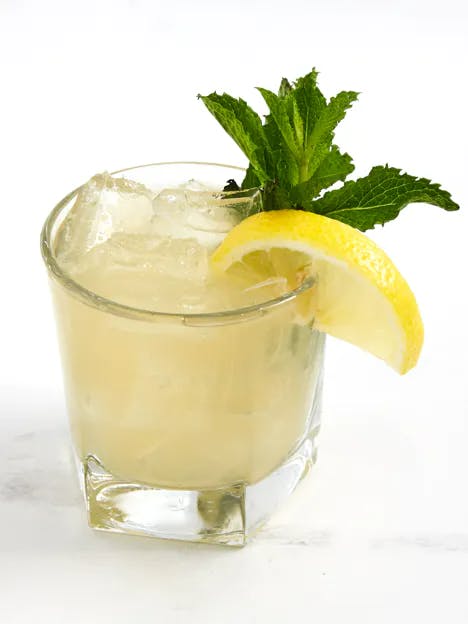 Whiskey Smash
Fresh lemon and mint muddled with
Japanese Whiskey and simple syrup.
14.50
Acai Lover
Acai vodka, blueberry syrup, sour mix.
13.95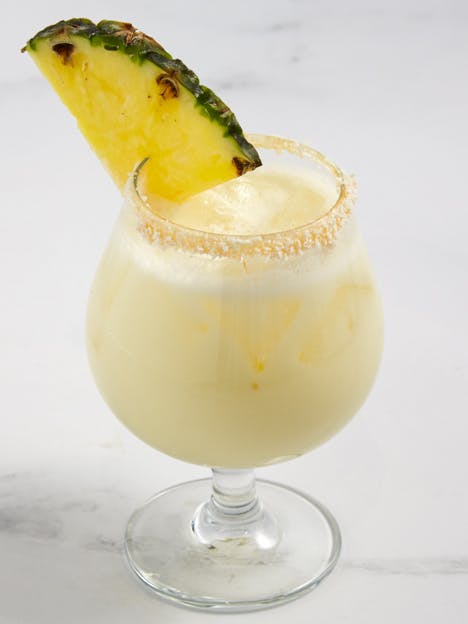 Coco-Rita
Jose Cuervo Tequila, Pina colada mix, fresh lime, Frangelico.
Garnished with a coconut caramel rim.
13.95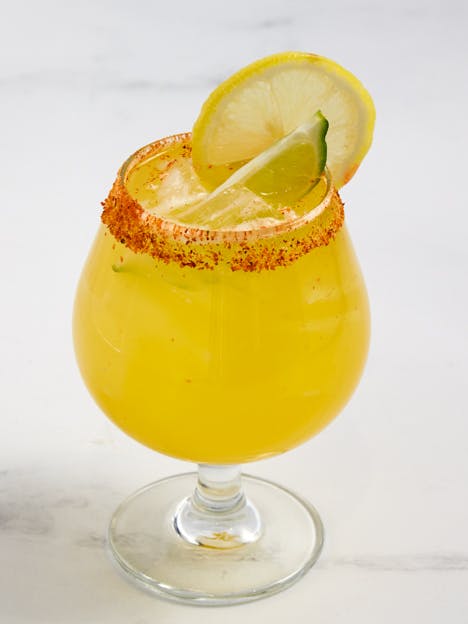 Yoki-Rita
Casamigos, Triple sec,
Passion Fruit, Fresh Lemon, Lime juice
14.50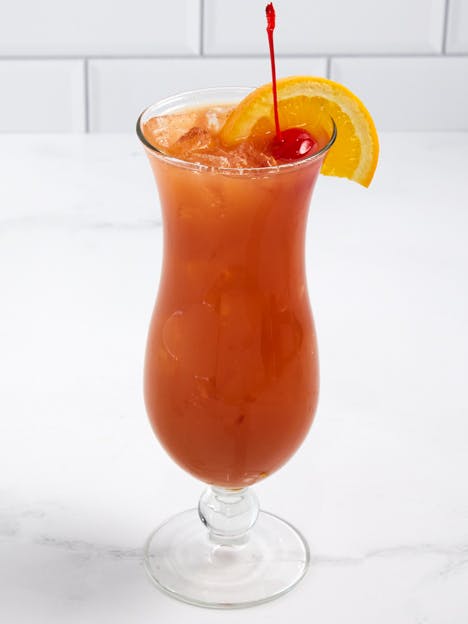 Scorpion
Light rum, dark rum, gin, triple sec, pineapple juice
and orange juice with splashes of orgeat syrup,
grenadine and lime juice, topped with Don Q 151
For One: 10.95 For Two: 18.95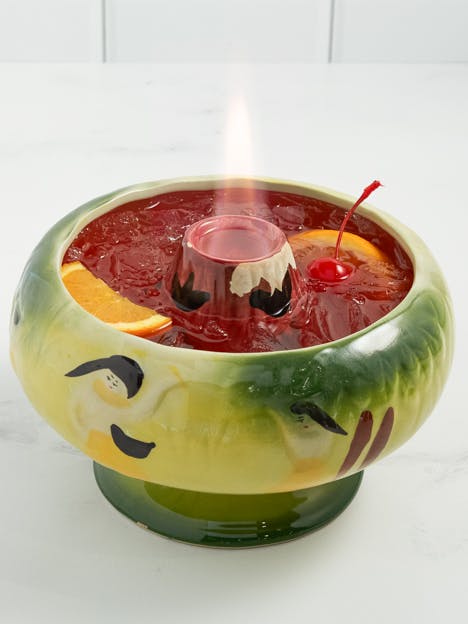 Yoki Lady
Light rum, vodka, triple sec, peach schnapps,
cranberry juice, passion fruit juice, with splashes of grenadine,
orgeat syrup and lime juice topped with Don Q 151
For One: 10.95 For Two: 18.95
14 Hands Cabernet Sauvignon
Bottle 38 Glass 8.75
Canyon Road Merlot
Bottle 33 Glass 7.25
Drum Heller Merlot
Bottle 35 Glass 8.00
Chateau St. Michelle Cab. Sauvignon
Bottle 39 Glass 10.00
Contour Pinot Noir
Bottle 38 Glass 9.00
Gascon Malbec
Bottle 36 Glass 8.25
Lucky Star Pinot Noir
Bottle 35 Glass 8.00
Allagash 6.50
Asahi 5.75
Blue Moon 5.25
Budweiser 6.50
Bud Light 5.75
Coors Light 5.25
Corona Extra 6.25
Dogfish IPA 5.25
Heineken 5.75
Lagunitas 5.50
Michelob Ultra 5.75
Lunch IPA 11.25
Sam Lager 5.25
Sapporo Light 5.75
Sapporo Premium 5.75
Sapporo Silver 10.95
Stella Artois 5.50
Down East 7.00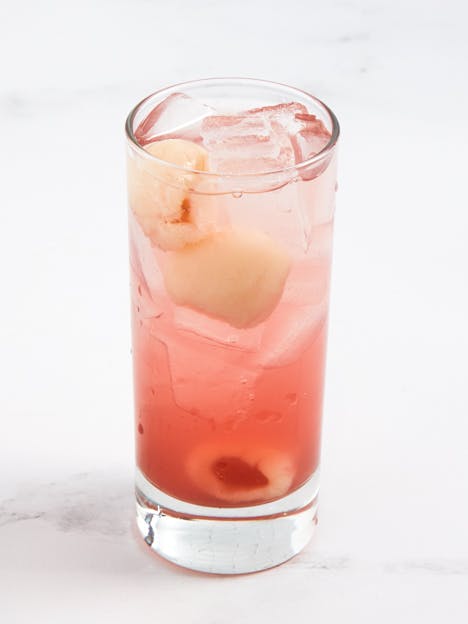 Geisha Kiss
Lychee muddled with Fresh lemon lime juice
lavender syrup and sprite.
8.95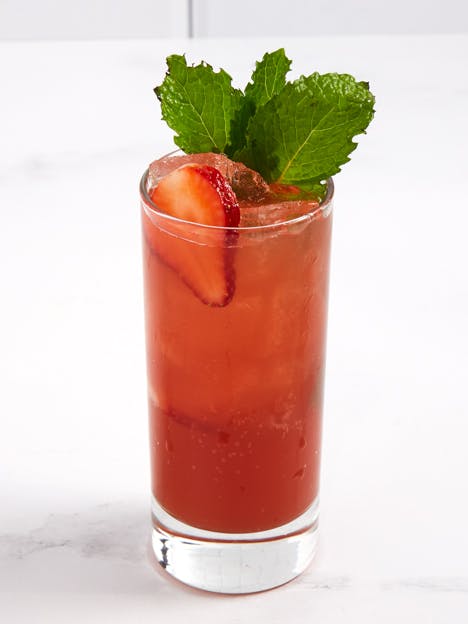 Kiwimoto
Fresh Mint and Strawberries muddled with
house blended fruit syrup and soda water.
8.95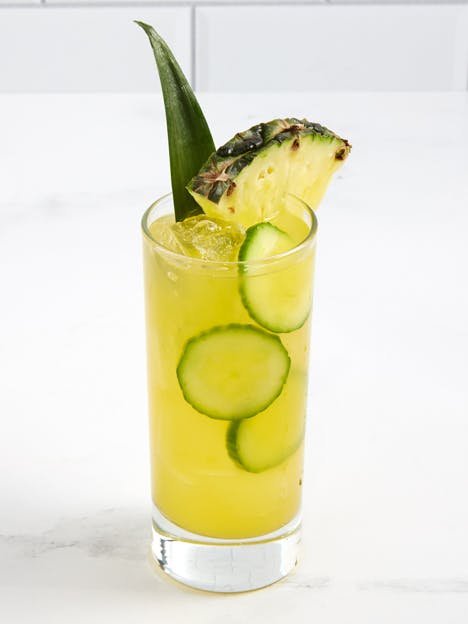 Tropical Breeze
Fresh cucumber and mint with house blend tropical juice.
8.95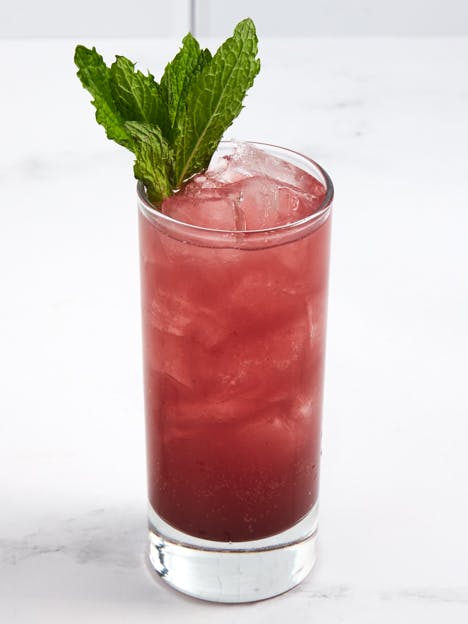 YokiBerry
Fresh Strawberries and Lime muddled with blackberry syrup and lemonade.
Topped off with non-alcoholic ginger beer.
8.95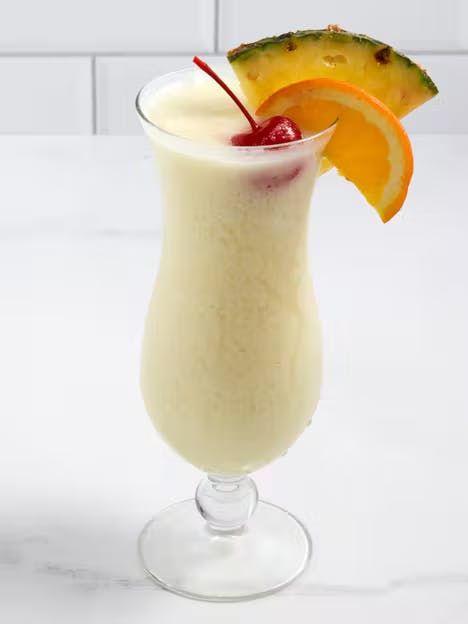 Virgin Piña Colada
8.95
Soda 2.95
Saratoga 2.95
Shirley Temple 3.50
Juice 3.50
San Pellegrino 3.75
*Check with Server for Availability for all Specials items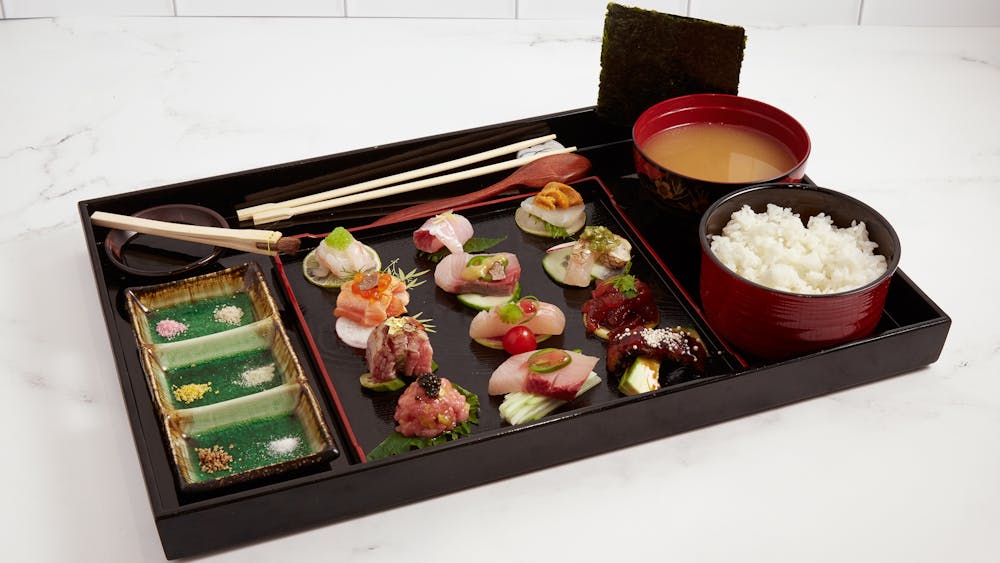 Temaki Omakase
Chef's Special Choice Handroll Set
$80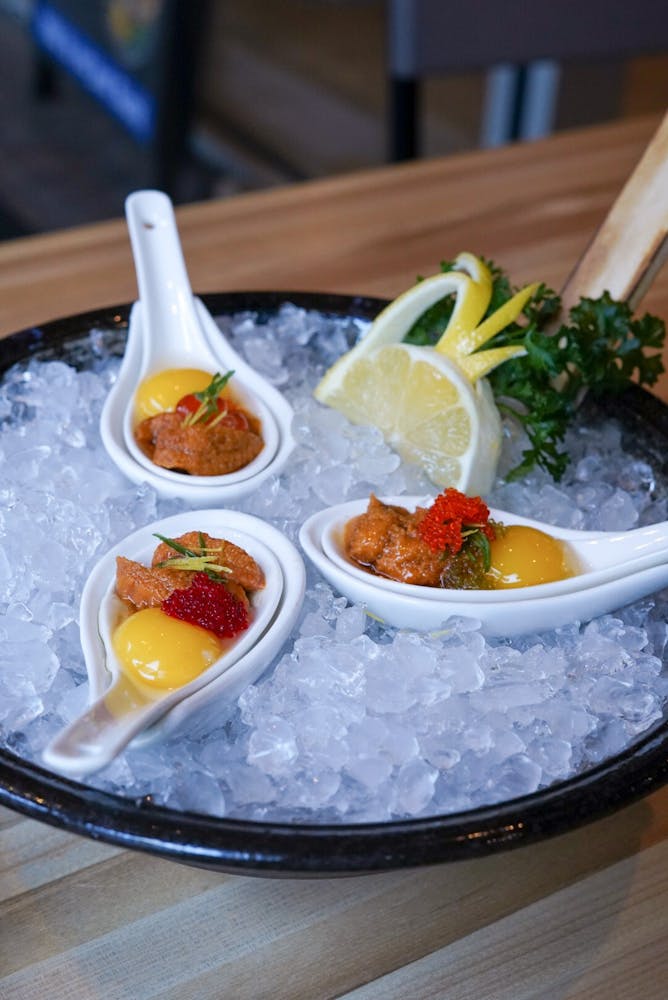 Uni Spoon
Fresh Uni (sea urchin). Served with quail eggs, salmon roe and flying fish roe. Garnished with scallion, lemon zest and house made Ponzu sauce.
$33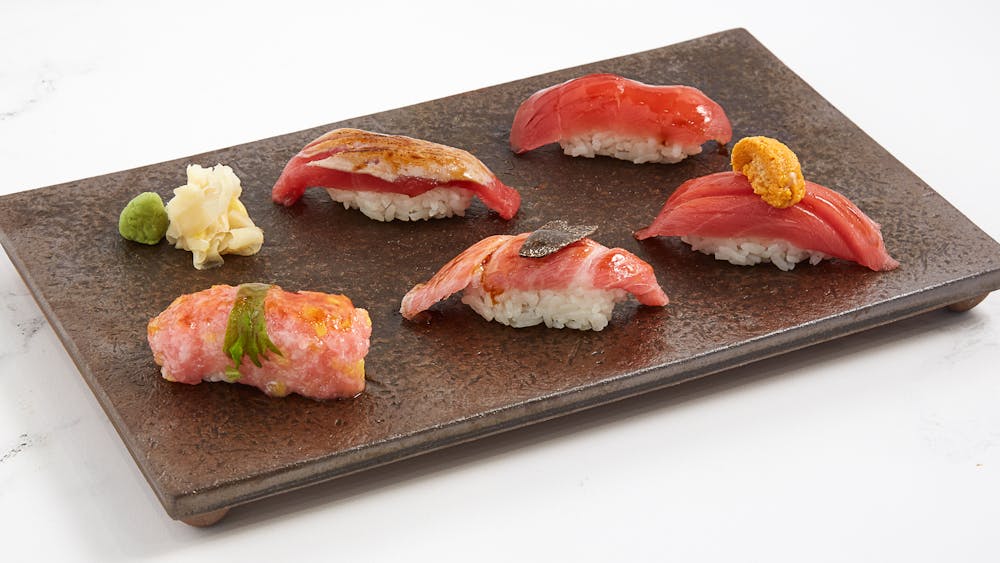 Tuna Sampler
5pc of Chef's Choice Fatty Tuna served Nigiri Style with house made ponzu sauce.
$35
Madai Carpaccio
Mesclun mix served with fresh slices of Madai, watermelon radish, truffle oil and Japanese Wasabi Dressing.
$33
Fatty Tuna (Toro)
Sushi $16
Sashimi $20
Japanese Sea Urchin
Sushi $23
Sashimi $35
Baby Yellowtail
Sushi $10
Sashimi $15
Available Mon to Thurs 4pm to 6pm with purchase of a beverage.
Chili Rangoon

Jalapenos stuffed with fresh seasoned tuna and cream cheese then deep-fried in a light batter and glazed with sweet soy sauce.

Edamame

Broiled green soybeans, light-salted

Spicy Edamame

Wok tossed soybeans in spicy garlic oyster sauce.

Gyoza

Pork and vegetable dumplings served steam or pan-fried. Steamed or fried.

Lobster Rangoon

Crispy wonton shells filled with a mixture of real lobster meat and cream cheese and glazed with raspberry sauce and sweet and sour sauce.
Fried Chicken Wings

Fried wings garnished with pickled carrots and radish. Choice of soy garlic or spicy seasoning.

Shumai

Ground shrimp dumplings served steamed or fried. Steamed or fried

Vegetarian Fried Spring Rolls

Crispy spring rolls filled with shredded vegetables served with sweet and sour sauce.

Veg Tempura

Fresh seasonal vegetables deep fried in light batter, served with light sweet soy sauce. Choice of: Sweet potato, Zucchini, Broccoli, or Acorn Squash.
BBQ Baby Ribs

Broiled ribs smothered in BBQ sauce and garnished with strawberries

$9.50

Chili Rangoon

Jalapenos stuffed with fresh seasoned tuna and cream cheese then deep-fried in a light batter and glazed with sweet soy sauce.

$8.95

Spicy Curry Mussels

Fresh mussels sauteed with coconut milk, spicy red curry, and basil leaves.

$9.95

Deep Fried Oysters

Battered fried oysters served with spicy mayo.

$9.50

Fried Chicken Wings

Fried wings garnished with pickled carrots and radish. Choice of soy garlic or spicy seasoning.

$7.95

Gyoza

Pork and vegetable dumplings served steam or pan-fried. Steamed or fried.

$7.95

Haddock Bites

Tender haddock in a light, crispy batter. Served with spicy sweet and sour sauce.

$7.95
Hotate - Hokkaiyaki

Scallops, crabsticks, tobiko, enoki mushrooms, and shitake mushrooms baked with spicy mayo.

$15

Lobster Rangoon

Crispy wonton shells filled with a mixture of real lobster meat and cream cheese and glazed with raspberry sauce and sweet and sour sauce.

$8

Shrimp Tempura Tapas

Shrimp deep fried in a light batter served with a light sweet soy sauce.

$5.95

Shumai

Ground shrimp dumplings served steamed or fried. Steamed or fried

$5.95

Yaki-Ika

Grilled fresh squid served with grated ginger and ponzu sauce.

$14

Yakitori

Barbecued chicken and scallions on a skewer with teriyaki sauce.

$7.95
Baby Octopus

Seasoned baby octopus served on lettuce with sesame oil, sesame seed, and chili peppers.

$7.25

Beef Tataki

Sliced rare beef served with sliced onions, scallions, and ponzu sauce.

$14.95

Nama Harumaki

Chunk of Atlantic salmon, shrimp, crabsticks, avocado, cucumber, and lettuce, rolled in rice paper with sweet soy, tomato sauce, and mango sauce.

$8.50

Naruto

Crabstick, tuna, tobiko, and avocado rolled in cucumber. Served with ponzu sauce.

$14

Salmon Carpaccio

Torched fresh seasoned raw salmon topped with jalapenos, tomatoes, and scallions. Served with ponzu sauce and truffle oil.

$13.95
Salmon Tartare

Chunks of fresh salmon, avocado, cucumber, and spicy mayo. Layer with tempura flakes, tobiko and served with crispy wonton chips.

$17.95

Torched Nigiri

Torched salmon belly and yellow tail belly topped with cheese, tobiko, scallions, and glazed with sweet soy sauce.

$16.95

Yoki Mountain

Chopped crabstick, octopus, shrimp, tobiko, avocado, and cucumber with spicy mayo, mango sauce, and tomato sauce. Topped with scallions and crispy rice puffs.

$16.95

Fresh Raw New England Oysters*

1/2 Dozen $16

1 Dozen $28
Edamame

Broiled green soybeans, light-salted.

$7.25

Spicy Brussel Sprouts

Sauteed brussels sprouts in a spicy garlic oyster sauce.

$8.50

Spicy Edamame

Wok tossed soybeans in spicy garlic oyster sauce.

$7.95

Shishito Roasted Pepper

Roasted Shishito pepper with sea salt and Shichimi pepper seasoning serve with lime wedge.

$8.95
Vegetarian Fried Spring Rolls

Crispy spring rolls filled with shredded vegetables served with sweet and sour sauce.

$6.50

Veg Tempura

Fresh seasonal vegetables deep fried in light batter, served with light sweet soy sauce. Choice of: Sweet potato, Broccoli, or Acorn Squash.

$5.50

Yoki Street Corn

Corn on the cob glazed with garlic butter, mayonnaise, and sprinkle with chili powder and cheese.

$8.95
Avocado Maki

Avocado Roll. Brown rice option.

$6.95

Backdraft Maki

Spicy cooked salmon with cream cheese, cucumber, and avocado. Brown rice option.

$7.95

Boston Maki

Lettuce, cucumber, avocado, and shrimp with mayo. Brown rice option

$8.50

California Maki

Crabstick, cucumber, and avocado roll. Brown rice option

$7.95

California Sunrise Maki

Jumbo California roll topped with oven-baked salmon, spicy mayo, and scallions. Brown rice option.

$14.50

Dragon Maki

California roll inside with eel and avocado topped with sweet soy sauce. Brown rice option.

$15.95

House Veg Maki

Carrot, seaweed, avocado, and cucumber. Brown rice option.

$7.50

Sushi Add Ons

Choose up to 5

Avocado $1

Crabstick / Kanikama $3

Cream Cheese $1

Cucumber $1

Eel / Unagi $4

Escolar $3

Handroll $1

Jalapenos $1

Octopus / Tako $3

Pineapple Chunks $1

Salmon / Sake $3

Soy Paper $1

Tempura Flakes $1

Tobiko $2

Tuna / Maguro $3.50

Yellowtail / Hamachi $3
Idaho Maki

Sweet potato tempura with sweet soy sauce. Brown rice option

$7.25

Kappa Maki

Cucumber roll. Brown rice option.

$6.50

Ninja Maki

Shrimp tempura inside with eel and avocado topped with sweet soy sauce. Brown rice option.

$16.95

Shrimp Tempura Maki

Shrimp tempura with cucumber and sweet soy sauce. Brown rice option.

$9.50

Spicy Scallop Maki

Sea Scallop tempura rolled with avocado, cucumber, and spicy mayo with sweet soy sauce. Brown rice option.

$8.95

Spider Maki

Softshell crab tempura with cucumber, avocado, spicy mayo, and sweet soy sauce. Brown rice option.

$15

Unagi Avocado Maki

Eel with avocado and sweet soy sauce. Brown rice option.

$9

Unagi Cucumber Maki

Eel with cucumber and sweet soy sauce. Brown rice option.

$9

Yellowtail Tempura Maki

Yellowtail tempura, avocado, and cucumber with spicy mayo and sweet soy sauce. Brown rice option.

$9.95
Red Sox Maki

Tuna, cucumber, and avocado roll topped with fresh sliced tuna and a mixture of tempura flakes with baked eel. Finished with tobiko, scallion, and glazed with sweet soy sauce and spicy mayo. Brown rice option.

$18.25

Bruins Maki

Spicy cooked salmon, cucumber, and cream cheese roll topped with fresh sliced salmon and mixture of crispy tempura flakes and spicy escolar. Finished with assorted tobiko, scallion, and glazed with spicy mayo and sweet soy sauce. Brown rice option.

$18.25

Hawaii Maki

Shrimp tempura roll topped with fresh sliced tuna and mixture of tempura flakes, spicy mayo, crabstick, and tobiko. Glazed with pineapple sauce. Sprinkle with dried seaweed powder. Brown rice option.

$18.50

Celtics Maki

Unagi and cucumber roll topped with a mixture of crispy tempura flakes and spicy tuna. Finished with fresh sliced avocado, tobiko, scallions, and glazed with sweet soy sauce and spicy mayo. Brown rice option.

$18.25

Patriots Maki

Escolar and cucumber roll topped with shisho leaf, tuna, salmon, and yellowtail. Finished with rainbow tobiko and scallions. Glazed with mango sauce and sprinkle with dried seaweed powder. Brown rice option.

$18.95

Crazy Maki

Shrimp tempura inside with salmon and avocado on top. Brown rice option.

$14.50

Rainbow Maki

California maki with salmon, tuna yellowtail, and avocado on top. Brown rice option.

$15.95
Negihama Maki

Yellowtail and scallions roll. Brown rice option.

$8

Alaska Maki

Salmon, cucumber, and avocado. Brown rice option.

$8.50

Rock & Roll Maki

Deep-fried jumbo roll of yellowtail, salmon, white fish, avocado, and scallions with sweet soy sauce. Brown rice option.

$13

Good Time Maki

Cream cheese, cucumber, and smoked salmon. Brown rice option.

$9.50

Sake Maki

Salmon roll. Brown rice option.

$7.50

Spicy Salmon Maki

Salmon with cucumber, tobiko, and spicy mayo. Brown rice option.

$8.50

Spicy Tuna Maki

Tuna with cucumber, tobiko, and spicy mayo. Brown rice option.

$8.50

Tekka Maki

Tuna roll. Brown rice option.

$7.50
Ebi Sushi

Cooked Shrimp. Brown rice option.

$6

Escolar Sushi

Brown rice option

$6.50

Hamachi Sushi

Yellowtail. Brown rice option.

$8

Ikura Sushi

Salmon Roe. Brown rice option.

$8

Kanikama Sushi

Crabstick. Brown rice option.

$6

Maguro Sushi

Tuna. Brown rice option.

$8

Sake Sushi

Salmon. Brown rice option.

$7
Suzuki Sushi

Hybrid Bass

$7

Tai Sushi

Tilapia. Brown rice option.

$6.25

Tako Sushi

Octopus. Brown rice option.

$7

Tamago Sushi

Egg Omelette. Brown rice option.

$5

Tobiko Sushi

Flying fish roe. Brown rice option.

$7

Smoke Salmon Sushi

Brown rice option.

$7.25

Unagi Sushi

Eel. Brown rice option.

$7
Ebi Sashimi

Cooked shrimp.

$9.75

Escolar Sashimi

$9.50

Hamachi Sashimi

Yellowtail.

$10

Ikura Sashimi

Salmon roe.

$10

Kanikama Sashimi

Crabstick.

$8.50

Maguro Sashimi

Tuna.

$10.50

Sake Sashimi

Salmon.

$10

Smoke Salmon Sashimi

$10
Suzuki Sashimi

Hybrid bass

$9.25

Tai Sashimi

Tilapia.

$8.95

Tako Sashimi

Octopus.

$8.95

Tamago Sashimi

Egg omelette.

$8

Tobiko Sashimi

Flying fish roe.

$8.50

Unagi Sashimi

Eel.

$9

Uni Sashimi

Sea Urchin.

Seasonal
Sushi Sashimi Combo Deluxe

Chef's choice of assorted 5 pieces of sushi, 12 pieces of sashimi, and 6 pieces of California Maki. Brown rice option.

$39.95

Maki Combination

6 pieces of California Maki, 6 pieces of spicy Tuna Maki, and 6 pieces of Shrimp Tempura Maki. Brown rice option.

$26.95

Nigiri Dinner

Chef's choice of 10 pieces of assorted sushi and 6 pieces of Tekka Maki. Brown rice option.

$32.95

Non Raw Maki Combination

5 pieces of Boston Maki, 6 pieces of Shrimp Tempura Maki, and 6 pieces of Backdraft Maki. Brown rice option.

$25.45
Rock The Boat For Two

Chef's choice of 6 pieces of assorted sushi, 10 pieces of sashimi, 6 pieces of spicy salmon maki, 8 pieces of dragon maki, and 8 pieces of Hawaii maki. Brown rice option.

$79.95

Sashimi Deluxe

Chef's choice of 17 pieces of assorted sashimi served with white rice or brown rice on the side.

$36.95

Veg Maki Combination

5 pieces of Vegetable Maki, 6 pieces of sweet potato Maki, and 6 pieces of cucumber and avocado maki. Brown rice option.

$21.45
Chicken Curry Katsu

Breaded fried Fresh natural Coleman's chicken breasts with diced carrots, onions, and edamame smothered in spicy curry sauce and served with rice. Brown rice or Noodle option.

$24.45

Teriyaki Beef

Fresh sirloin steak grilled to perfection and smothered in our special teriyaki sauce. Served with mixed vegetables with your choice of noodles or rice.

$26.95

Teriyaki Chicken

Fresh natural Coleman's chicken breasts grilled to perfection and smothered in our special teriyaki sauce. Served with mixed vegetables with your choice of noodles or rice.

$23.50

Teriyaki Yoki Trio

Fresh sirloin steak, chicken and shrimp grilled to perfection and smothered in our special teriyaki sauce. Served with mixed vegetables with your choice of noodles or rice.

$32.95

Teriyaki Tofu

Fried Tofu and smothered in our special teriyaki sauce. Served with mixed vegetables with your choice of noodles or rice.

$17.95
Teriyaki Salmon

Fresh quality salmon grilled to perfection and smothered in our special teriyaki sauce. Served with mixed vegetables with your choice of noodles or rice.

$25.95

Teriyaki Shrimp

Fresh quality shrimp grilled to perfection and smothered in our special teriyaki sauce. Served with mixed vegetables with your choice of noodles or rice.

$23.50

Unaju

Broiled freshwater eel glazed with special sweetened soy sauce. Served over a bed of rice.

$29.95
Fried Rice

Mixed vegetables with egg and soy, garnished with scallions. Choice of beef, chicken or shrimp, or tofu & vege.

Veg. Fried Rice $15.25

Vege and Tofu Fried Rice $15.75

Chicken Fried Rice $15.95

Shrimp Fried Rice $16.50

Beef Fried Rice $16.95

Pad Thai

Stir-fried rice noodles mixed with egg, beansprout, and scallions together in our Pad Thai sauce. Topped with peanuts. Choice of beef, chicken, shrimp, or tofu & vege.

Vege Pad Thai $15.25

Vege and Tofu Pad Thai $15.75

Chicken Pad Thai $15.95

Shrimp Pad Thai $16.50

Beef Pad Thai $16.95

Salmon Pineapple Fried Rice

Salmon and pineapple with mixed vegetables, egg, soy, and scallions.

$18.50
Yaki Soba

Stir-fried so (thin noodles) with mixed vegetables and your choice of beef, chicken, shrimp, or tofu & vege.

Vege Yaki Soba $15.25

Vege and Tofu Yaki Soba $15.75

Chicken Yaki Soba $15.95

Shrimp Yaki Soba $16.50

Beef Yaki Soba $16.95

Yaki Udon

Stir-fried udon (thick noodles) with mixed vegetables and your choice of beef, chicken, shrimp, or tofu & vege.

Vege Yaki Udon $15.25

Vege and Tofu Yaki Udon $15.75

Chicken Yaki Udon $15.95

Shrimp Yaki Udon $16.50

Beef Yaki Udon $16.95

Stir Fry Add Ons

Choose up to 4.

Stir Fried Beef $4

Stir Fried Chicken $3

Stir Fried Shrimp (3) $5

Tofu $1.50

Broccoli $1

Vegetables $1

Egg $2

Noodles $3

Jalapeno $1

Pineapple Chunks $1

Rice $2

Spicy
Avocado Salad

Avocado, crab stick, and cucumber tossed in mayo and topped with fresh raw salmon and tobiko.

$10.50

Seaweed Salad

Fresh seaweed seasoned with sesame.

$6.25
Beef Ramen

Ramen noodles with tasty pork broth, beef sirloin steak, egg, fish cake, corn, seaweed, beansprout, spinach, bamboo shoots.

$18.95

Chicken Ramen

Ramen noodle with tasty chicken broth, grilled chicken breast meat, sweet corn, egg, scallions, wakame seaweed, spinach, beansprout, bamboo shoots.

$17.95

Pork Ramen

Ramen noodles with tasty pork broth, sliced pork chashu, sweet corn, bamboo shoots, egg, scallions, wakame seaweed, beansprout, and spinach.

$17.95
Seafood Ramen

Ramen noodles, chicken base, shrimp, mussel, fish cake, corn, beansprout, seaweed, bamboo shoot, spinach.

$16.95

Tofu Ramen

Ramen noodles with tasty Miso broth, tofu, bamboo shoots, sweet corn, broccoli, seaweed, spinach, and beansprout.

$14.95

Ramen Add On

Please choose up to 5

Corn $1

Bamboo Shoots $1

Egg $1

Spinach $1

Seaweed $1

Fish Cake $2

Grilled Chicken $5

Grilled Steak $7

Fried Tofu $1.50

Noodles $2

Spicy $1

Chashu Pork (3pc) $5
Agedashi Tofu

Deep-fried jumbo tofu served in a light fish broth with scallions, spicy daikon radish, wakame seaweed and nameko mushrooms.

$5.45

Hot Sour Soup

Tofu, enoki mushrooms, wood ear mushroom, and egg.

$5.95

Miso-Shiru

Soybean soup with tofu, seaweed, and scallions.

$2.95
Side Brown Rice

$3

Side Noodle

$3.25

Side Salad

$2.25
Side Sushi Rice

$3

Side Vegetable

$4.95

Side White Rice

$2.25
Tempura Ice Cream

$7.50

Bomba Ice Cream

$7.50

Chocolate Cake

$7.50